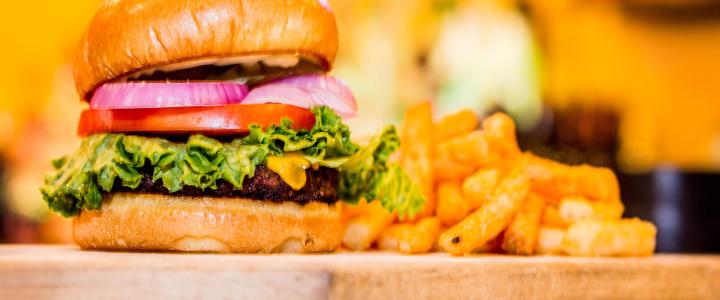 When you visit a new town, one of your main goals should be to check out the local food scene. Here in Columbia, there is no shortage of local restaurants that will fit any taste!
We have family owned restaurants that specialize in down home cooking, Italian, steaks, Jalisco style Mexican, gluten free, Asian fusion, and so much more. For those who love a good old-fashioned burger, we've compiled a list of some of the best options in town! Whether you like yours with bacon, pepper jack, chili, or a fried egg, we have them all. Bring a friend, bring your appetite, and get ready to dig in!
You might say DB's is primarily a pizza restaurant, but that's not entirely correct. DB's offers a menu with several different items that are all hometown favorites, including burgers. The burgers here all have very different personalities, from the subtle to the spicy. B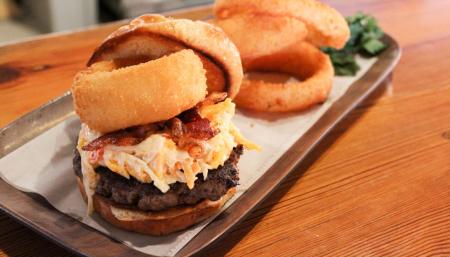 ut one stands out at the top – The Lucille Burger. A fresh patty slathered with house made pimento cheese, slices of bacon, and a larger than life onion ring perfectly balanced on top. Throw some sweet potato waffle fries on the plate and you might have just created a masterpiece. DB's is also a great gathering place to watch the game on television with some friends, or to participate in their regular trivia nights.
[Photo Credit – DB's Eats & Beats]
Don't let the word 'steakhouse' in the name of the restaurant throw you off. Southern Tré has a large menu with several delicious options and a variety of price points. If you're coming in for a quick midday lunch, though, grab a seat at the bar in the back and order the Classic Cheese Burger. This generously sized burger is topped with all of the classic burger additions, hence the name. You'll get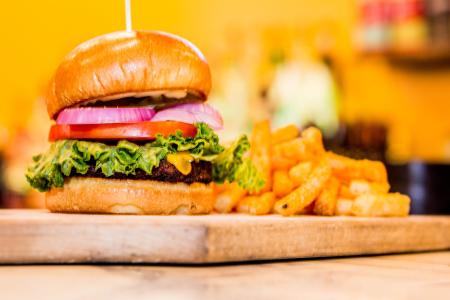 American cheese, lettuce, tomato, onion, pickle, and mayo piled high. If that isn't enough, you can also throw on a handful of additional toppings including bacon, sauteed mushrooms, or caramelized onions. After a meal like that, you'll probably want to take a lengthy stroll around the Square.
[Photo Credit – Southern Tré Steakhouse]
Puckett's is a restaurant with local roots, though there are five other locations across the state. The Columbia location has quickly become a central gathering point downtown, either for music on the stage downstairs or to attend a community event in the sprawling upstairs space.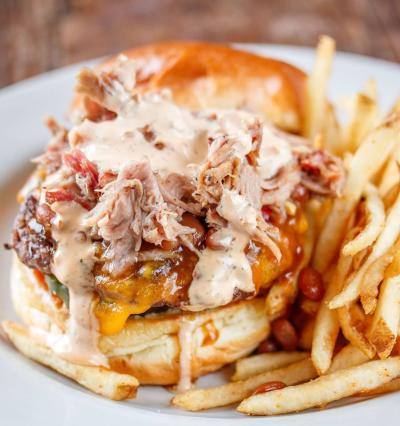 No matter your reason for visiting, it would truly be a shame if you don't find a Mojo Burger on a plate in front of you. Be aware that there's a lot going on with this meal: the seasoned burger is topped with southern style coleslaw, wood-smoked pulled pork, baked beans, aged cheddar, dill pickle, and drizzle of barbeque ranch. Sounds busy, but the ingredients complement each other perfectly. Grab a Puckett's logo mug or a bottle of their signature barbeque sauce before you leave to remember your visit.
[Photo Credit – Puckett's]
In 2016, the Tennessee Department of Economic and Community Development set out to find the best burger in the state. After more than 250 initial submissions, five rounds of voting, and more than 10,000 total votes, Jana's Jumbo House was determined to be the runner up in the contest. Though they weren't crowned the winner, it wasn't considered a loss by any stretch.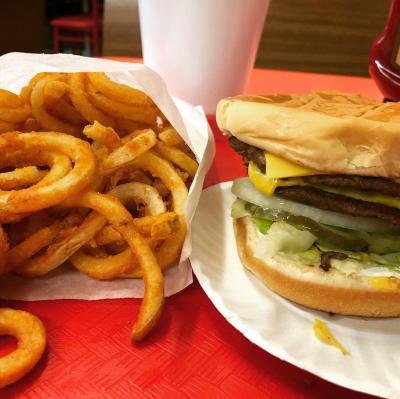 The burgers at Jumbo House are definitely award winner status and have been loved by Columbia since 1975. You can find any size burger to fit your appetite, from the 4-ounce Janie all the way up to the Big Joe that boasts 1 ½ pounds of meat! You can enjoy your meal inside, or take it outside under the covered awning in the glow of the restaurant's neon sign. Pro tip – grab a homemade chocolate and peanut butter shake to finish off your meal.
[Photo Credit – Jordan Tepper, @easttasty on Instagram]
This is by no means an exhaustive list. We have so many options here in Columbia for a great meal, no matter what you're craving. These locally owned restaurants know the best way to bring people back for more is to serve up fun memories, great food, and a good time. We know you'll find your favorite meal here in Columbia!