Public Art Scavenger Hunt
Explore Columbia's artistic and sometimes hidden treasures of public art sculptures, murals and ghost signs found downtown, in the Arts District, on Columbia State's campus, and around town. Some are worthy of deep contemplation while others make for a great selfie!
Part of Columbia's unique appeal is discovering the neat little surprises that pop out at you in the way of street art, namely murals, ghost signs and a few pieces of public art. Let's see if you can find these top favorites in and around Columbia in your very own artistic scavenger hunt.
COLUMBIA MURAL BY HERRINGTON & ELMORE ON N. GARDEN STREET

MULETOWN GOTHIC MURAL BY HERRINGTON & ELMORE ON W. 7TH STREET

FIRE DEPT MURAL BY COLLEY ON S. GARDEN STREET

ARTS DISTRICT MURAL BY COLLEY ON S. GARDEN STREET

MULETOWN LUMBERYARD MURAL BY McFALL AND GURCHIEK

ABSTRACT BY WISNIEWSKI ON S. GARDEN STREET

COLUMBIA KIND MURAL BY HOLMES ON GARDEN STREET

'CROSS THIS' SCULPTURE BY DUNCAN AT COLUMBIA STATE CAMPUS

FOOD IS ART BY HERRINGTON ON SOUTH GARDEN STREET

COLUMBIA SCOOP SHOP AT HATTIE JANE'S CREAMERY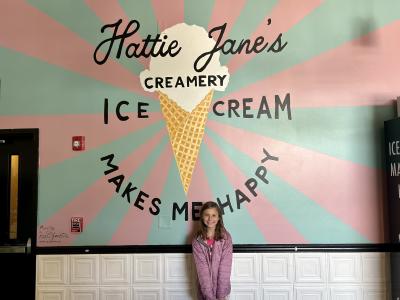 THE GRADUATE SCULPTURE BY DUNCAN AT COLUMBIA STATE CAMPUS

'THREE FIGURES' SCULPTURE BY VANDER WEG AT COLUMBIA STATE CAMPUS

MARTIN & VAUGHN GHOST SIGN ON E. 7TH STREET

MULE QUEEN MURAL BY WHITLEAH ON E. 6TH STREET

MOUNT PLEASANT MURAL IN DOWNTOWN MOUNT PLEASANT

MY COLUMBIA MURAL BY LEACH ON 11TH STREET

BE THE FRIEND MURAL ON WOODLAND STREET

MULETOWN SHOWDOWN MULE ON E. 7TH STREET

DIMPLE OF THE UNIVERSE MURAL BY LEACH ON N. GARDEN STREET

LADY JUSTICE MURAL BY TARA AVERSA ON CARMACK BLVD