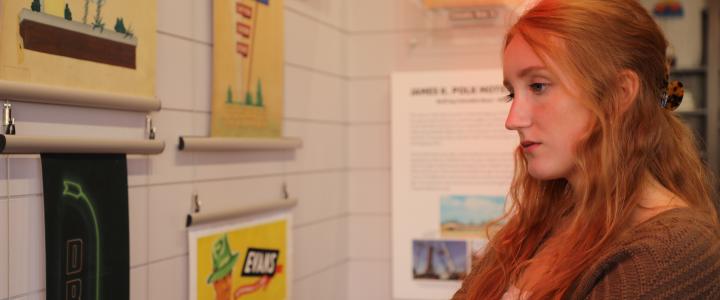 When you think of Columbia, you may think of the vibrant downtown, the great outdoors, emerging Arts District, historical landmarks, and of course... Mule Day! But there is so much more. Winter is a great time to explore all the indoor attractions Columbia has to offer. 
1. Enjoy Art at W7th Art Gallery
Are you interesting in viewing some stunning art and the best pieces of history that Columbia offers? Then, you must visit W7th Co! Keep your eyes open for their amazing exhibits and everchanging collection of pieces. 
2. Learn Tennessee History at the James K. Polk Home & Museum
If you love learning about U.S. Presidential history, then you will love visiting the James K. Polk Home & Museum. The well-educated staff will take you on a guided tour of the gorgeous home to provide a deeper understanding of the 11th President's term and life here in Columbia.
3. Do a Wine Tasting 
Farmstead Cellars offers wine tastings on the second floor of Farmstead Market overlooking the downtown square. The tasting room features a large selection of Tennessee-produced wines and The Polk Collection, premium wines produced from varietals grown on the West Coast.
4. Cook up some Good Food
Lime & Loaf offers cooking classes for all ages! Enjoy spending time with family and friends or a special night out for yourself. The meal will be delicious and you will leave as a master chef with a happy stomach! 
5. Learn and Play at aMuse'um Children's Museum
aMuse'um Children's Museum is guaranteed to make the kiddos and parents happy! aMuse'um offers a fun learning experience for all. The invigorating programs that spark creativity in the children are endless.
6. Have Some Fun at Tenn Pin Alley
Find bowling, arcade games, go-carts, food, and drinks at Tenn Pin Alley! It is fun for the entire family. 
 7. Drinks at The Lounge
Owned by nationally syndicated country radio host Blair Garner, The Mulehouse, a new concert and event venue, offers great ambiance. The Lounge is located downstairs at The Mulehouse, where you can grab a cocktail or any drink of your choice and enjoy the art deco decor. 
8. Thrift Shop in the Columbia Arts District 
Who doesn't love a good thrift? Glover's Secondhand offers vintage, trendy styles that will have you looking very fashionable at a great cost. Grab some complimentary coffee and great conversation while you're there too!
9. Scan Vinyls and More 
Variety Records is a music lover's dream that carries music memorabilia, vintage furnishings, new and vintage turntables, and much more. They have the best new and pre-loved music. They are proud to offer a vast majority of our music exclusively on vinyl.
10. Explore The Factory at Columbia
The Factory at Columbia is a one-stop-shop! You can shop for clothing, shoes, antique items, leather goods, handcrafted woodwork, and more! There's delicious food and baked goods at B's Salty and Sweet, and you can top that off with great coffee, tea, and gourmet lemonade  at all the different amazing businesses! 
11. Indulge in Good Food with Live Entertainment 
Good food and great entertainment make for the perfect combination! You can find this perfect combo at numerous restaurants in Columbia. Relish in Puckett's famous southern cooking while listening to their weekly talents. And you can also savor the goodness at River Terrace while overlooking the water views of the Duck River. 
12. Explore the Visit Columbia Welcome Center 
The Welcome Center on the downtown square is a great place to start if you are new to town or visiting! Stop by and grab a visitor guide, ask for some recommendations, and grab some Muletown merchandise! You can also find some Muletown and Columbia swag at all the various shops around town! 
13. Curl up to a Book
Imagine the coziest book shop straight out of a movie.. the smell of fresh and old books, soft string lights, cozy seating, original wood accents, and a spiral staircase on the Downtown Square - that is Duck River Books, and it is a must-visit when in Columbia. 
14. Have a cozy overnight stay 
Enjoy a step back into the Victorian era at the Blythewood Inn & Suites. You will find a formal parlor off the grand entrance filled with collectibles, a formal dining room with rare murals dating back to the 1900s, and a secluded library with vintage reads. Six luxurious suites are waiting for you to visit, relax, and enjoy. 
15. Brush up your painting skills
Muletown Pottery is ready to help you brush your painting skills! Their themed painting classes are offered weekly. Have a blast creating a beautiful winter-themed painting! 
16. Pamper Yourself 
On a cold day, you can relax on Elia Day Spa's warm beds to a massage or a toxin-free facial. When you visit Elia, you'll leave feeling relieved and relaxed with an unforgettable experience you can't wait to relive again.
Explore Columbia!