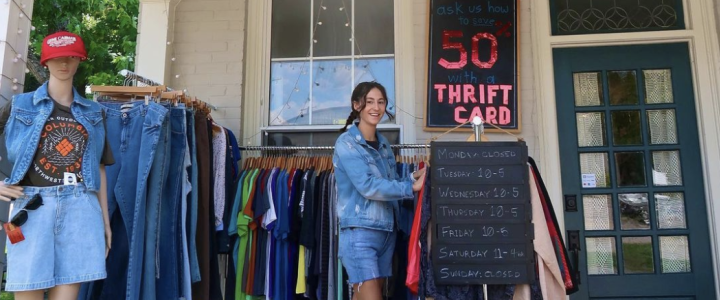 Nestled in the picturesque town of Columbia, Tennessee, a world of thrifting wonders awaits.
With its historic charm and welcoming community, Columbia is home to a variety of thrift shops that cater to every budget and style. From unique vintage finds to budget-friendly treasures, Columbia's thrift stores offer a one-of-a-kind shopping experience for locals and visitors alike. Take a tour of Columbia's thrift shops and discover why they are all worth a visit. Your thrifting adventure awaits!
1. Glover's Secondhand
Located in the Columbia Arts District, Glover's Secondhand is a beloved vintage shop that has been serving Columbia for years. As you step into this quaint vintage shop, you'll be greeted by a warm atmosphere and friendly staff. Glover's offers a diverse range of vintage clothing, furniture, books, and household items. Whether you're searching for a vintage blouse, eclectic apparel, a unique piece of furniture, or a classic novel, Glover's Secondhand is a treasure trove waiting to be explored. Don't forget to strike up a conversation with the knowledgeable staff, as they often have fascinating stories about the items on display.
2. Second Time Around
Nestled on Walker Street, Second Time Around is a hidden gem for thrift enthusiasts. This delightful store boasts a well-curated selection of clothing, accessories, and home decor items. From fashionable finds to quirky vintage pieces, Second Time Around offers something for everyone. The store's organized layout and clean displays make browsing a breeze, ensuring you can take your time to discover hidden gems. With reasonable prices and an ever-changing inventory, Second Time Around guarantees an exciting and rewarding thrift shopping experience.
3. Thrift Love
If you're seeking a thrift shop with a cause, look no further than Thrift Love. Not only will you find an array of affordable clothing, accessories, and home goods, but you'll also be supporting a charitable organization. Thrift Love employs those with special needs and/or disabilities to offer their talents to benefit themselves and the community. With every purchase you make, you can take pride in knowing that you're making a positive impact on the lives of others. From trendy clothing to unique decor items, Thrift Love is the perfect place to shop with a purpose.
4. Zeldavine
Zeldavine is a charming thrift shop nestled in the Columbia Arts Building. This locally-owned store offers a fashionable, curated selection of clothing, accessories, and unique gifts. Step inside where you can browse racks of stylish clothing and discover one-of-a-kind pieces that reflect the latest trends. Zeldavine provides a wonderful shopping experience, making it a favorite destination for fashion-forward individuals in Columbia. Whether you're looking for a new outfit or searching for the perfect accessory, Zeldavine is a must-visit boutique that captures the essence of style and individuality.
5. Wear It Well Boutique 
Wear It Well Boutique is a gem for thrifty fashion enthusiasts. This boutique specializes in offering a carefully curated selection of pre-loved, high-quality clothing and accessories. As you step inside, you'll be greeted by a cozy and inviting atmosphere, with racks filled with stylish finds at affordable prices. The knowledgeable and friendly staff are always ready to assist you in finding hidden treasures that perfectly fit your style and budget. From trendy outfits to timeless classics, Wear It Well Boutique provides a unique shopping experience, where you can discover one-of-a-kind pieces while being mindful of sustainability. Whether you're a bargain hunter or simply appreciate the thrill of finding unique fashion items, this boutique is a must-visit destination in Columbia.
Columbia offers a wealth of opportunities for those seeking treasures and unique finds. Whether you're on the hunt for vintage clothing, home decor, or simply want to support local charities, Columbia's thrift shops have something for everyone. So, grab a friend and a tote bag and embark on a thrifting adventure in Columbia, where you'll discover hidden treasures and create memories that will last a lifetime. Happy thrifting!
Discover more amazing thrift shops!