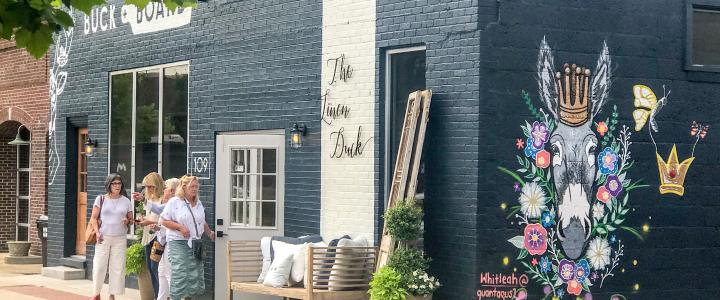 Columbia, Tennessee isn't just a place - it's a lifestyle for residents and visitors alike. And for a lot of folks, the foundation of that lifestyle is the collective of locally-minded boutiques, shops, vendors, artisans and craftsmen that flourish here. From home decor and gifts to produce and meats, there has never been a better time to live, visit and shop in Columbia for a fresh, inspired home and life.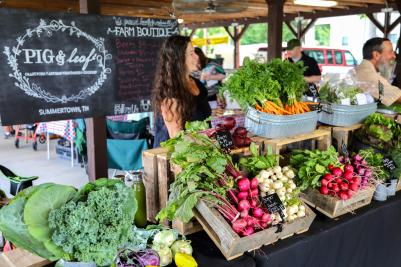 Columbia Farmer's Fresh Market - Riverwalk Park at 5th St. & Riverside Dr., Columbia, Tennessee
Saturdays in the summertime are the best days of the year. Everybody knows it. And going till noon at Riverwalk Park in Columbia, Saturdays are all about the Columbia Farmer's Fresh Market. Opening each spring in early May and running till late October, farm vendors sell fresh, seasonal items - from watermelons, honeys, pies, cut flowers, peaches, apples, jams, jellies and all cut and kind of locally raised meats and other vegetables right from the vine. Artisans set up shop with balms, salves, cutting boards, soaps, jewelry and all sorts of hand-crafted goods. Come meet the faces and families behind some of Columbia's best farmers and artisans.
Just across the Duck River from the Farmer's Fresh Market are a pair of home decor and women's boutiques on E. 6th St. that are all about adding texture and color to your home, style and life.
Step through the doors of the Faded Farmhouse and pause for a moment to take in the sights and aromas as you're greeted by an old Ford F-1 truck festooned with flowers that sits up front and original paintings by Jill Harper Designs and Perfectly Southern Art line the wall. This warm, inviting haven of home décor is filled with preserved boxwood wreaths, patterned tea towels, vintage inspired window arches, inspirational throw pillows, tea, sugar and coffee canister sets and every sort of rustic decor offering. You'll also find s selection of women's clothing. With other locations in Nashville, Arrington and Mooresville, North Carolina, the Faded Farmhouse has fast secured its spot as a regional staple.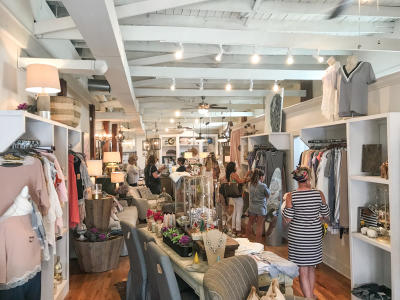 Just a few doors down, you'll find The Linen Duck, brimming with trendy, seasonal women's clothing and accessories, home decor items like vases, Turkish towels, hanging planter pots, faux flowers, and linen everything! Linen Duck carries a special collection of Magnolia Home by Joanna Gaines of HGTV's hit show Fixer Upper and custom upholstery by Robin Bruce Furniture, a made in the USA brand that has been in the furniture business for over 75 years. Designers in the store can help you choose from over 1,000 fabrics for a handpicked living room setup or whatever room you're designing.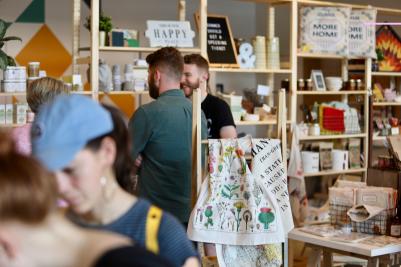 Just off N. Garden St. are two of Columbia's newest hotspots: Needle and Grain and Tallgrass Meat Company. To be fair, Needle and Grain relocated this summer to their newly renovated and considerably larger digs from their previous location in the Columbia Arts Building. Coming off of a big shout-out by Country Living Magazine where they were named one of "the country's 100 most creative people," husband-and-wife duo Bryson and Susan Leach have curated a brand that revolves around their motto of "purposeful living." Custom quilts and quilting fabrics are a staple at Needle and Grain, along with home accents ranging from felt banners and accent succulents to wooden barn quilt blocks and dog accessories. They're also the folks behind the now-iconic mule stickers that are seen all over town and offer a full slate of craft classes and workshops including Macramé plant holders, weaving, crocheting, quilting, floral design and wreath making.
Tallgrass Meat Company - 510 No. Garden St., Suite C, Columbia
A few doors down from Needle and Grain is a very different kind of store. Tallgrass Meat Company was opened by two cousins who grew up in a family-owned meat shop in Kansas, a state and region already known for a strong culture and history of livestock raising and the craftsmanship of the butcher's trade. Bring nutrition and holistic wellness and embracing the symbiotic relationship between people and food is central to the Tallgrass motto. The freezers and cases are arrayed with beef, game, pork, poultry and seafood. Cuts can be trimmed to custom specifications right behind the counter, and weighed right in front of you to ensure the exact steak or chop you're looking for. They even offer the occasional charcuterie class. Tallgrass painstakingly sources animals from local, family farmers, including several folks from Columbia as well as a fifth generation Tennessee Century Farm located nearby.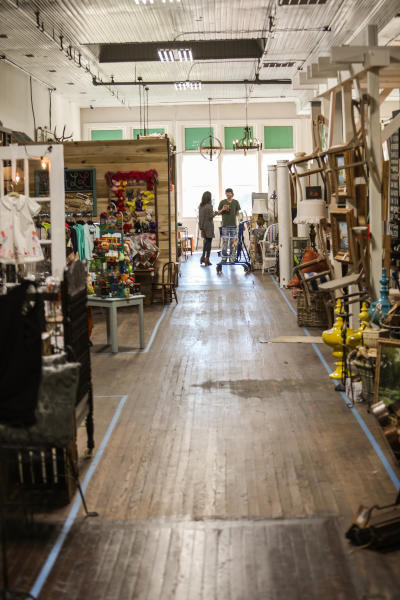 Located just off the iconic courthouse square on West 7th Street are a pair of stores that are goldmines for anyone looking for home and decor inspiration. Set up just like an old-fashioned antique store, Bleu 32 Vintage Marketplace has 55 vendors on 3 floors, with offerings ranging from seasonally-scented candles, hand painted local art, boutique clothiers and even rugs. Originally opened in 2015 in a Victorian home on Walker Street, Bleu 32 now occupies the historic JC Penny building, making them a hallmark of downtown Columbia's preservationist and revitalization spirit. Along the walls and in the booths, you'll find antique kitchen gadgets, collectible vinyl records, baby clothes, boutique t-shirts and up on the third floor, Buckhead Bleu, Buckhead Coffeehouse's downtown location. (learn more about the 'Coffee Culture in Columbia')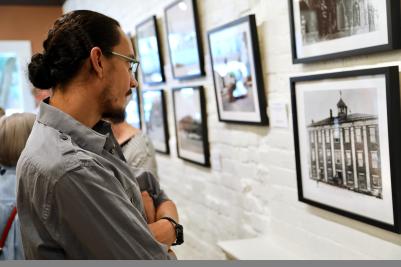 West 7th Co. - 107 W. 7th St., Columbia, Tennessee
Just across the street from Bleu 32 is one of Columbia's most unique new spots: West 7th Co. Recently featured on History Channel's hit television show American Pickers and the iconic Nashville Public Television series Tennessee Crossroads, West 7th Co. is an essential photograph collection that tells much of Columbia's story. Opened in December of 2017, the curators display photographs preserved from the career of local photographer W. A. Orman, who began to photograph places, people and events in Columbia in 1919. His son, as well as his protege turned business partner Ray Burt, joined the business as the years went by, and the collection piled up. "Do not throw the negatives away," was Orman's mantra. His forethought has paid off. Orman's prints are framed and available for purchase, turning admirers into collectors. And the gallery is located in what was once White's Camera Shop. In a town embracing preservation and heritage, what could be more Columbia?