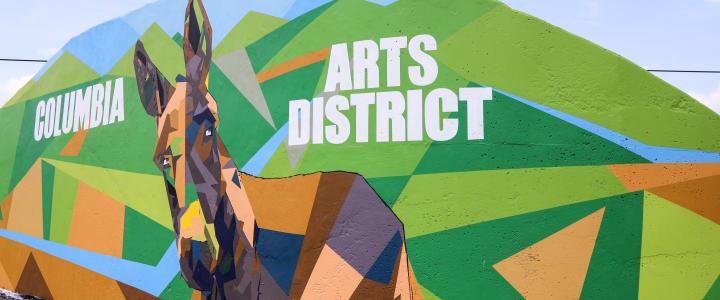 The Columbia's Art District - A Creative's Scene. This destination was developed by visionaries to establish a physical place for artists and makers to truly express themselves and display their art. The Arts District has now not only morphed into a place for artists, but a place of retail and enjoyment for the entire community. The area is blossoming with art, creativity, retail, dining, and entertainment fueled by the energy and vibe of local artists and idealists.
The Columbia Arts Building houses a variety business that allow you to bask in creativity as you enjoy your visit. One can indulge in a good cup of coffee at Wolf & Scout Coffee Bar, take a workout class at CAB Movement, and grab a great lunch at Ollie & Finn's. While the CAB is a relaxing spot, it also allows your professional, creative juices to flow in Muletown Collective where you can cowork and collaborate with others. Love live music, brews & food trucks? Bad Idea Brewing Co.  is your place - with weekly live music and a variety food trucks, you can't go wrong! The CAB also home to a plant lover's dream - Cope, a unique, nursery and gardening store! And don't forget to explore the downstairs level. The CAB's latest additions - Kaleidoscope & What A Load of Scrap! Kaleidoscope is little store for big kids - find books, arts & crafts, games! Explore with no list, just vibes at Wha A Load of Scrap! The craft and vintage goodies are endless. The Arts District will also spike your hunger and satisfy your taste buds with the lingering aroma of authentic Italian foods from Barino's Italian Southern Eatery and Mama Mila's. You can't leave the Arts District without a trip to Glover's Second Hand where you are guaranteed to leave more stylish than when you entered. 
Take a dive into the other amazing businesses that make the Arts District such a unique scene! From art to drinks to vintage finds, the Columbia Arts District has no shortage of activities for everyone. 
Battleground South Cigar Lounge