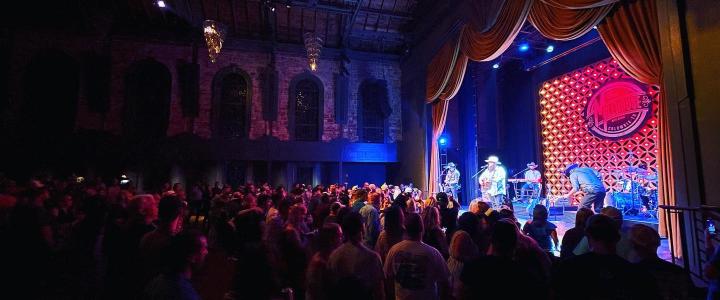 These days, you don't have to leave town to hear great music in Columbia, aka Muletown. We have our own venues and performers, showcasing their musical talents just about every week. From independent musicians busking on the corner to pop-up concerts at your favorite coffeehouse, lively and diverse tunes welcome you most everywhere you go.
Vintage Winery
Nearly 100 years ago, this building originally housed a service station that assisted travelers needing fuel or a quick tune-up on the old family truckster. These days, Vintage Winery serves up a generous selection of wines and camaraderie to locals and travelers alike.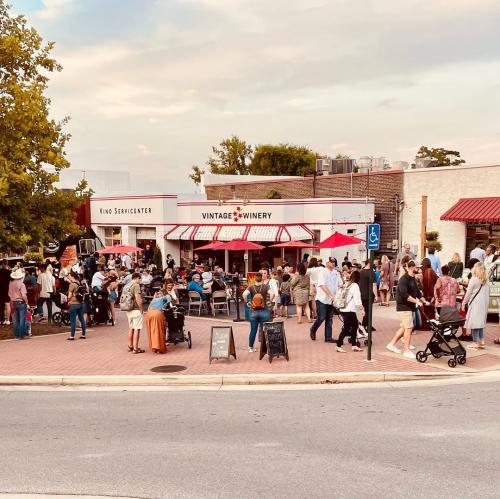 Located just one block off the Town Square, their corner lot is bustling with activity as ripples of Jazz and the chatter of patrons radiate from the outdoor plaza. First Fridays have been a huge hit at Vintage Winery with amazing musical artists showcasing their talents. Offering both instrumental and vocal acts, the different artists give you the option of focusing intently on the music, or letting it be the soundtrack to a wonderful evening out. Vintage Winery also offers plenty of outdoor seating along with a few indoor spaces, so you can enjoy wine and music however you choose. And while a few small bites are available for purchase inside, you're welcome to bring in outside food or hit up your favorite food truck. Check out their social media pages and website for a full calendar of upcoming performances.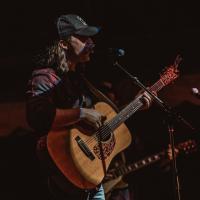 The live music scene has exploded over the last few years, thanks to the increase in new businesses and venues who support the arts. Especially when you attend a First Fridays event downtown, you're serenaded with a variety of musical acts flowing from shops and restaurants and street corners. Read more to see where you can find a few of the live music hotspots in town.
If you don't mind driving a few miles of scenic countryside, you'll get to experience a venue with a decidedly more cozy atmosphere. Homestead Hall is less than 30 minutes from downtown Columbia, just east of the city near the original Marcy Jo's Mealhouse.
The building started as a storage barn used by Joey and Rory Feek on their Hardison Mill property, and has since transformed into a destination music venue that is a haven for singer-songwriters. Homestead Hall seats around 300, but once inside it feels much more intimate. Each performance gives you a chance to hear directly from the artists and get the backstory on some of their classics, similar to the Bluebird Café in Nashville. If you love hearing how a song came to be, including little tidbits from the artist's life and from the road, then this is the venue for you. Many local and regional performers, including Rory himself, have performances set on the stage through the end of the year. Check out their website for the schedule and ticket information.
In case you were wondering, live music is now next level in Muletown! The Mulehouse, a beautiful gem of a music venue was transformed from a former Baptist church into a sweet sanctuary of music. It's the newest and most unique music venue in town, ushering in shows and artists that can be found on big stages in larger cities.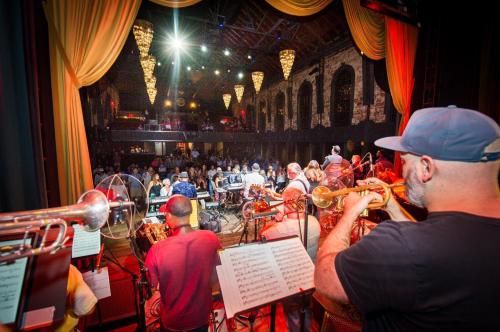 The Mulehouse draws in these acts due in part to owner Blair Garner's successful career in the radio industry, but also because of the design, capabilities, and state-of-the-art sound system of this incredible music venue. The inside features exposed brick walls and original stained glass windows carefully preserved from the former church. Shows at The Mulehouse range from local performers like Cassandra Coleman, to nationally known artists like Uncle Kracker and Lee Brice. It's no surprise that each show has been a packed house, standing-room-only crowd! P.S. You can rent The Mulehouse for your own special event.