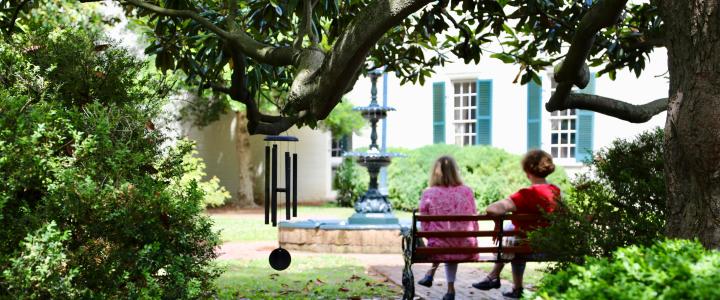 Explore Downtown Columbia
Downtown Columbia is a classic, Southern downtown and exuberant place to experience fun, food and good company. Whatever you're looking for, we have you covered. Columbia is the perfect mix of history blended with modern, trendy shops, restaurants, breweries & tap rooms, and cool places to hang out with friends - and you will even get a 'hello' from the locals. 
Fine dining? Southern Tre Steakhouse offers a variety of menu items such as steak, seafood, pasta, salads and a full bar of adult beverages and outdoor seating in the famous "Whiskey Alley." Southern cooking? Puckett's is known for hosting live, local musical acts and serving southern staples. Authentic comfort food — classics like the meat-and-three and the famous slow-smoked BBQ — in a laid-back and down-home atmosphere. Marcy Jo's Muletown is the spot for home cooked breakfast and lunch daily. You must order the cinnamon roll or you did not truly eat there. Wine & cheese? Buck & Board offers elevated café style dining, serving coffee, wine, beer and charcuterie boards with local and imported meats, cheeses and fruits. Vintage Winery, tucked into a 1930's Esso ServiCenter, serves as a tasting room featuring a large selection of Tennessee produced wines and The Polk Collection, premium wines produced on the West Coast. Brews and snacks? Taps off Main is the most fun and inviting atmosphere with more than 25 brews on tap! Snack on some one-of-a-kind chex mix and Daddy Bob's Pimento Cheese - even grab canned beers on the go. Asgard Brewing Co. offers quality craft beer that uses a myriad of natural and locally sourced ingredients. Enjoy the day in their outdoor seating with guest food trucks and live music. Caffeine kick? Muletown Roasted Coffee is a it-spot downtown with ethically sourced, southern artisan coffee that is fresh-roasted for everyday people. By the cup or bag - whole bean or grind - hot or cold - it's always fresh! Shopping? With modern home décor and fine accessories, Smith & York Co. is a modern home lover's dream. Ted's Sporting Goods is a Columbia staple with the infamous upside-down sign where you can find your name brands like Yeti, Carhartt, Columbia and more. Duck River Books is straight from a fairytale with a spiral staircase, quaint atmosphere and good reads. Tin Cottage is the happiest little shop where customers can find friendly conversation and joyful gift items. There too many amazing shops to list. Find the all here! 
 If you're here on the first weekend of the month, be sure to check out First Fridays for live music on the square, food trucks and extended shopping hours.
Visit the Outdoors
Yanahli Park offers 474 acres of trails, exploration and excursion opportunities. Cheeks Bend Bluff View Trail being one of those excursions, is a two-mile trail that wanders along the bluff overlooking the Duck River. This intersects with Rummage Cave, a horizontal cave with five oval rooms about 30-feet wide - an explorer's dream. This natural area offers numerous unique landscapes and forests. Grab your bike and hit the trails on Chickasaw Trace Park. This 300-acre park is located on the banks of the Duck River and offers 8.5 miles of single-track mountain bike trails. Chickasaw is suitable for all levels of mountain bike riders – from expert racers to beginners. A weekend at Chickasaw will find expert racers training or families with children enjoying the scenic river and view. Chickasaw Trace Park also has a log cabin rental and two open-air shelters available for gatherings. Explore where the wet-weather springs emerge contributing to a rich habitat supporting a colorful spring wildflower display at Stillhouse Hollow Falls, a must-see sight. This 90-acre state natural area, located 21 miles southwest of Columbia, offers a beautiful natural area with a signature waterfall and streams that will leave you surrounded with relaxation as you take in the scenery. This can be seen by walking approximately 2/3 of a mile along the Stillhouse Hollow Falls Trail.
Tour Historic Sites
The President James K. Polk Home & Museum is home to the 11th President of the United States and is located right off the downtown square, serving as living history. Guides will lead you on an educational journey throughout the Polk Home, Sisters' House, Presidential Hall, Kitchen, and beautiful Garden. The Athenaeum served as the rectory for two girl schools and was occupied by the same family for over 130 years. Today, the Athenaeum is a historic site and museum open for tours and available as a venue for your next event. Hoofing It Walking Tours is a fun, great way to learn about the history and beauty of the downtown area! 
Take a Scenic Drive to Our Wineries
Head on a mini road trip and enjoy scenic views of the countryside's rolling hills to visit these three gems. Amber Falls Winery & Cellars is charming and an unforgettable experience with everything from private wine tastings to a robust gift shop featuring many award-winning wines. Natchez Hills Vineyard and Winery lies on the historic Natchez Trace serving handcrafted, small-batch wines. Enjoy a sampling in the tasting room or open a bottle on the patio to enjoy the fresh country air and views. Keg Springs Winery offers free tastings April through October, with free music on the deck on the 2nd and 4th Saturdays of each month from 2pm till 5pm.