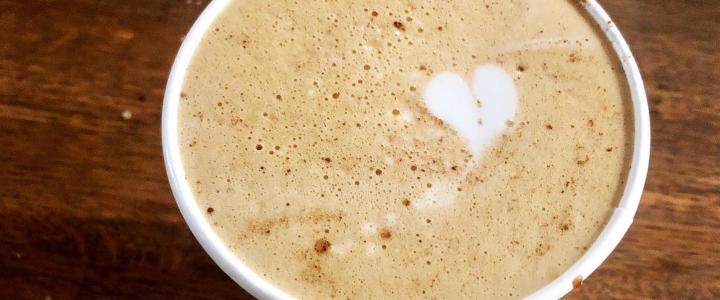 Get to know the coffee culture of Columbia, Tennessee by visiting each of these unique coffee spots - Muletown Roasted Coffee, Tennessee Coffee & Smoothie Company and Buckhead Coffeehouse.
Muletown Roasted Coffee - the iconic downtown hangout spot roasting their own Colombian-sourced (the  Latin American country, not our town) coffee beans. Because any visit to Columbia (our town, not the country) inevitably begins in the shadow of the iconic courthouse square, any tour of the city's coffee houses inevitably begins at Muletown Roasted Coffee, often simply known as Muletown. 
"I'm not from here," said Chris Weninegar, one of Muletown's co-founders, who has worked in the coffee industry for twenty years, having started in a coffee shop at fourteen down in Oxford, Alabama. "I just moved here and opened up a coffee shop and we were very embraced by the community."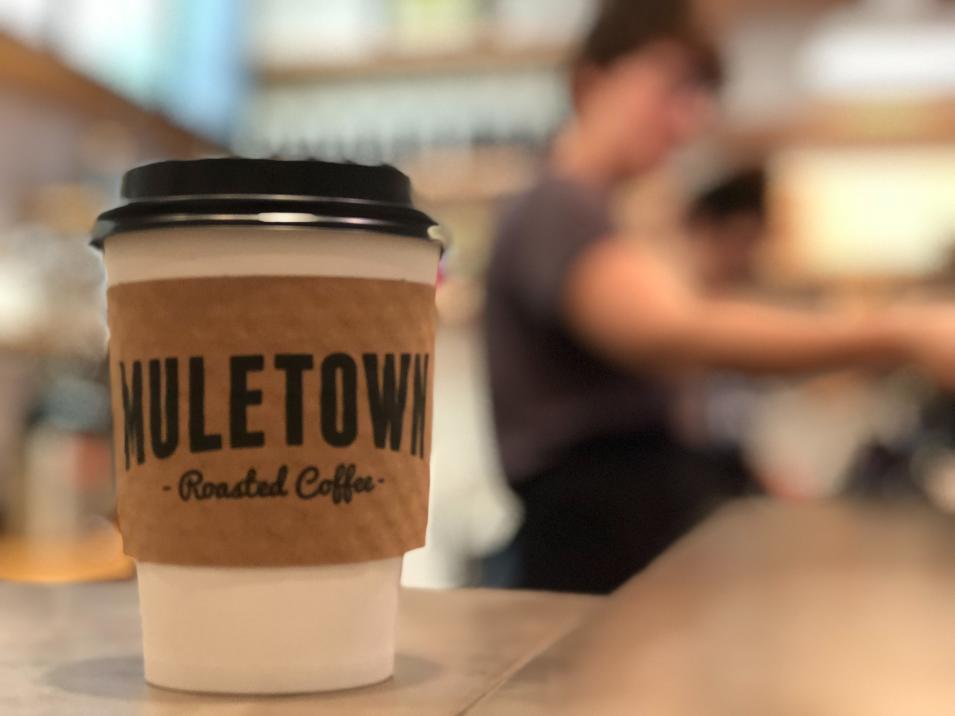 And that's putting it lightly. In the past several years, Columbia has embraced its coffee shops with open arms. "People have this need for these informal social gatherings," Chris said. "I think that people come to coffee shops for community. For culture."
Muletown actually started as a roasting company, in a garage. Today, they have their own roasting house, located right down the road from their shop. And for the record, it's something of a coincidence that Muletown's coffees are all grown in the Latin American country that our city shares its name with. "For all of our Columbian coffees, we buy from origin," said Chris. "We go down there a couple times a year and we have some friends down there . . . so we work directly with farmers."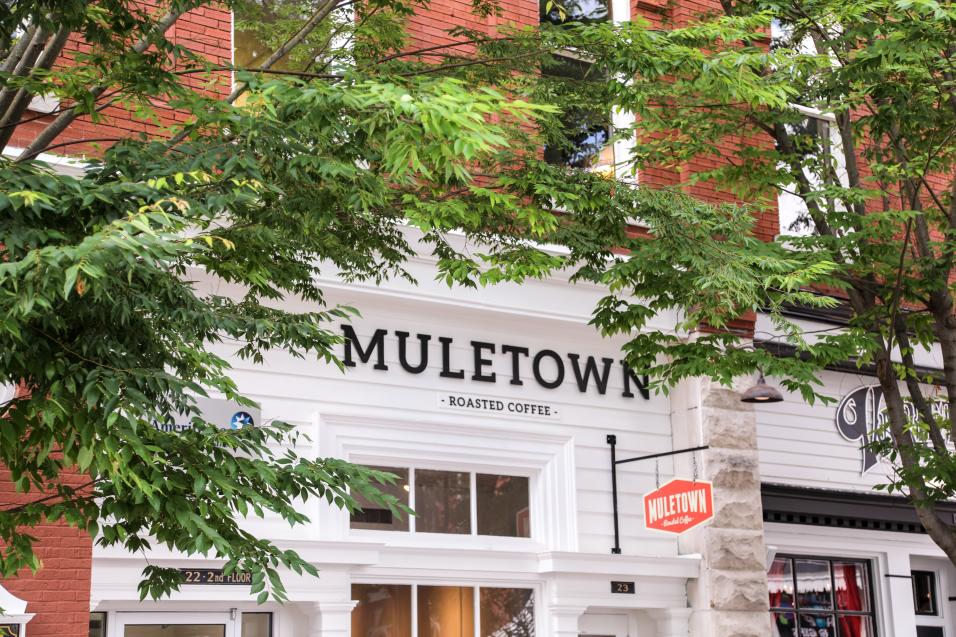 Muletown also sells a lot of bagged coffee, specifically their All-Purpose Coffee and another popular specialty called the Woodsman. Muletown also distributes their beans to restaurants all over Nashville, roasting for well-known eatery establishments such as Biscuit Love and Puckett's.         
"Just making people feel welcome, and included," Chris said. "I guess the general idea is just treating people the right way. Columbia is very unique. I like to call Columbia America's small town . . . This town, just by nature of location, or whatever, has been lucky to be able to preserve some of that community and some of those traditional American values. Things like brotherly love, and doing the right thing. General overall kindness."
Muletown Roasted Coffee is located at 23 Public Square, Columbia, Tennessee 38401. For more information, visit their website here.
Tennessee Coffee & Smoothie Company - the original gourmet coffee in Columbia, deserving of the credit for paving the way for Columbia's coffee culture. It's true. Tarri Bye co-owns Tennessee Coffee & Smoothie Company with her husband. "We were the very first coffee stand," said Tarri, "the very first coffee place in Columbia. We've been here sixteen years." When the two of them moved here from Washington State, it was a time when the local idea of gourmet coffee was a French vanilla cappuccino from the gas station. So when they opened their coffee stand, the people of Columbia embraced them.
Now, Tennessee Coffee & Smoothie Company is not a true "coffee shop," for two reasons. One, it's a drive-through. "I feel like right now we're living in a time where people want things quickly, and we're losing that customer service aspect," said Tarri. "And the more we lose it, the more I feel like people want it back." So Tarri is giving it back to them. It's this impressive balancing act between speedy, drive-through service and old-fashioned customer service that sets Tennessee Coffee & Smoothie Company apart.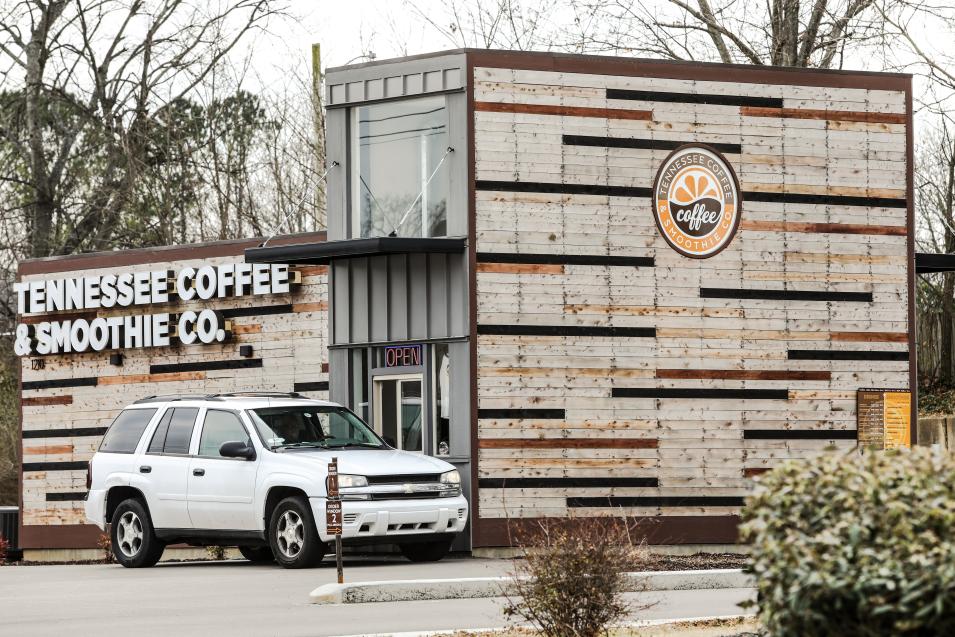 And two, they serve more than just coffee. "We just always wanted to have something we could offer people who don't drink coffee," said Tarri. "It's just really taken off to have healthy smoothies. I think we've got a segment here in Columbia that understands this healthy lifestyle, and they want to have healthy options. It's really been a great addition."
"We understand that when people are going to work, we've got to hurry. But we can still put out a good, gourmet cup of coffee for them. We are going to give you a great cup of coffee, and we're going to do it fast."
Columbia loves them for it, a feeling that's clearly mutual. "I love Columbia," said Tarri. "I think our town is so friendly. You can go downtown, people will say hi to you, people will smile. I've had people from other places say, 'Your town is just so friendly.' Well, people are just nice here."
Tennessee Coffee & Smoothie Company is located at 1210 North Commerce Court, Columbia, Tennessee 38401. For more information, visit their website.
Buckhead Coffeehouse - the coffee shop and cafe serving breakfast and lunch, where the employees are baristas by day, and artists by night. Debbie Cooper, owner of Buckhead for fifteen years, has never lost her passion for being a Columbia staple. "When I pour a drink," said Debbie, "I serve it with the top off cause it's still to me, pouring art. That's still the joy. After all this time."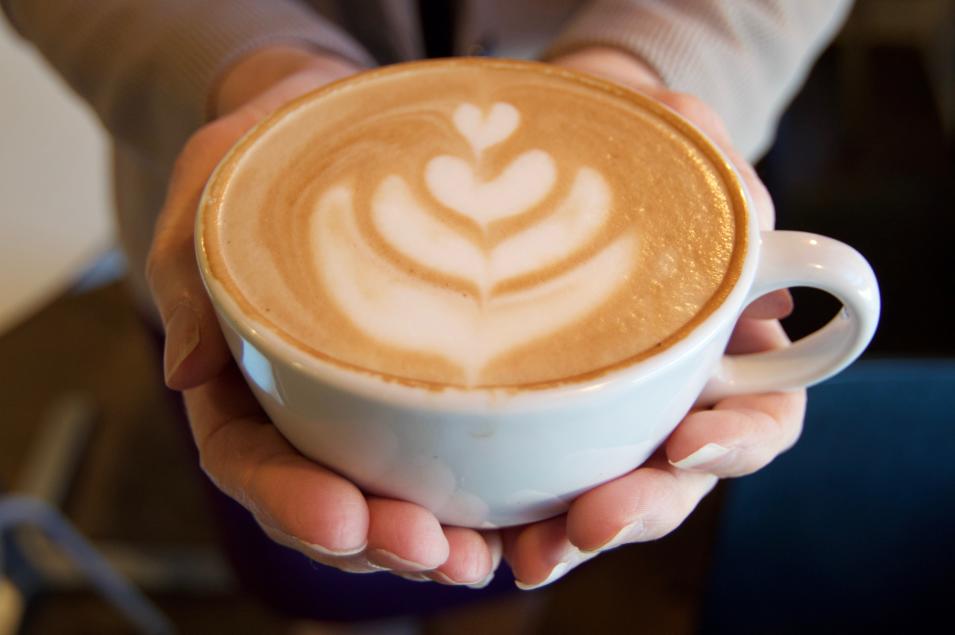 In order to be a better owner, Debbie decided to spend a year being a better customer. She moved to a Nashville neighborhood where she could walk to several coffee shops from her home, eventually becoming a regular at one place. She wanted to narrow in on what made a coffee shop a great place, and she found it.
"Community," she said. "People have a job, they have their home, and they like a place where people know who they are. So much of it is regular people. We have regulars that come in daily, because they feel comfortable, we know them, we know their drink when they walk in. It's just that place you can go where you'll feel a little special. It's that whole warm and fuzzy feeling that you get when you find a place like that."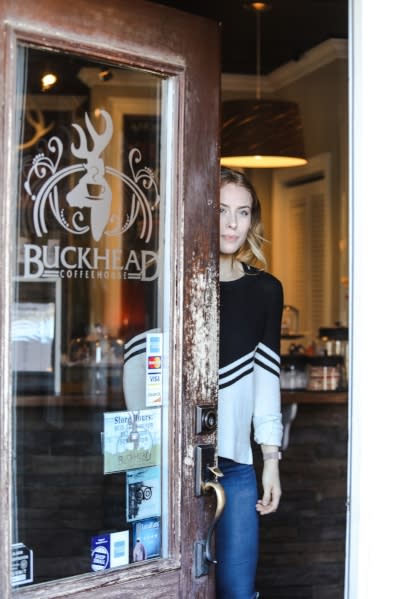 Buckhead is also a cafe, known throughout Columbia as a go-to spot for baked breakfast goods, and their wildly popular lunch items, including homemade soups and chicken salad. They serve the community, and the community serves them. Their salad greens are grown by local farmers, and they uses eggs that a customer brings in. "We purchase from our customers," she said, "and our customers purchase from us. It's just all done with love."
Buckhead Bleu is a tucked-away second location for this quaint little coffeehouse. Found in Bleu 32 Antique Marketplace in downtown Columbia, it's located on the upper floor, among the vintage tables & chairs and the antiques for sale. The wall of windows offers a view of downtown that makes it well worth the visit. Their third Buckhead location is on the main drag in Mt. Pleasant, Tn. It's just as quaint and cool as the other two locations.
And while there is no doubt that part of Buckhead's unique identity comes from the coffee they brew and the menu items Columbia loves, there's another part of their identity that is perhaps even more important. It certainly is to Debbie.
"Buckhead supports our employees passion of either being songwriters, singers, artists, photographers. I mean, we have it all. It's like the most creative bunch," says Debbie.  "And what they do, they really do with love. And I don't know that everybody walking in here recognizes it. It almost makes me want to tear up. Just how talented they are in so many realms other than, 'Here's your coffee.' But that same feeling goes into the sandwiches they make, into the coffee. It's just a wonderful thing to have. Here, everybody has a talent. And their all passionate and they all put it into Buckhead. We all do it together."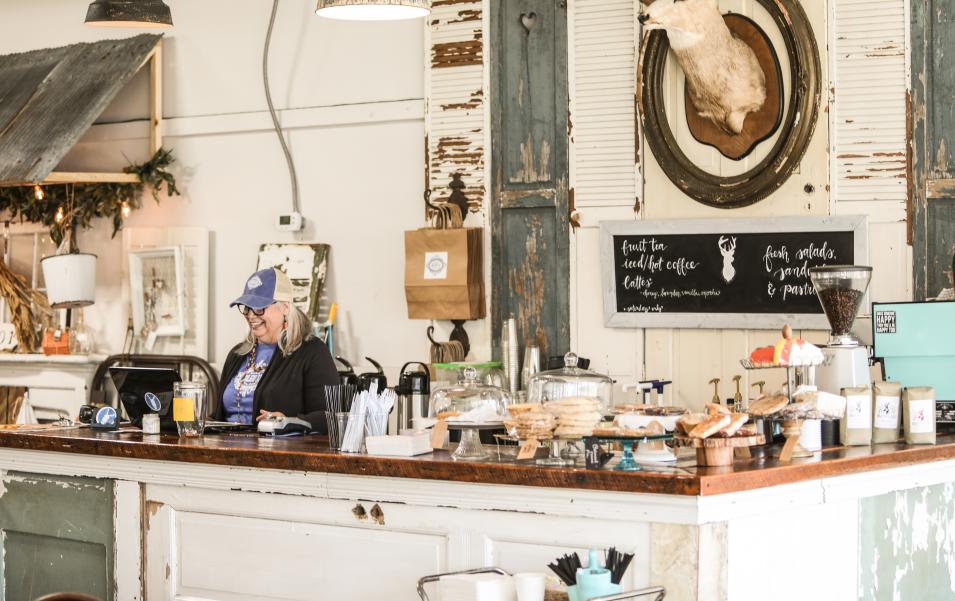 Buckhead Coffeehouse is located at 1173 Trotwood Avenue, Columbia, Tennessee 38401. For more information, visit their website.