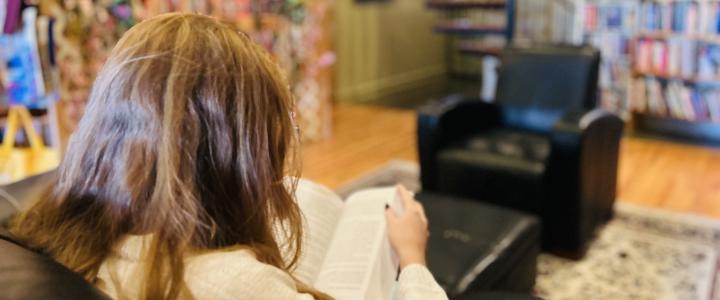 Winter is the perfect time to slow down and soak in all the coziness of our surroundings. Winter brings cozy spots, warm drinks and food, and an overall sense of calmness when you stop and look around. Here are a few cozy spots to soak in this winter season as you defrost your busy schedule. 
Duck River Books is no stranger to the avid book reader. The array of books that line the aisles along with the fresh scent of books that lingers throughout gives it an impeccable essence. You can curl up on the couch with your new read as the lights twinkle over your head while enjoying the views of the fairytale spiral staircase. 
Buck and Board has all the tastes and the coziness. You can soak in the sun on the window seat sofas while drinking your warm latte or red wine paired with a fresh garden salad, sandwich, or soup. The warm wood decor and natural light will have you enjoying company for hours without notice. 
If you're a tea lover then Nashville Tea Co. is the spot for you. Their steeping hot tea with all their herbal flavors of lavender, chai, matcha, blackberry, cinnamon, bourbon, and more will have your tastebuds heightened and your stress levels lowered. Pair their tasty teas with their sandwiches, soups, or scones. 
Farmstead Cellars is a great place to grab a glass of wine and relax in their country, vintage chic decor. Tucked away in a cozy loft overlooking the downtown square, you will revel in the views while enjoying jazz music. You can taste wines created from all over Tennessee or indulge in the signature Polk Collection. 
Needle and Grain's motto is curated goods for purposeful living. This boutique provides you with all the essentials to make sure your home is fresh and cozy. You can shop their handmade quilts, make your own candle scent, or refill your soap containers at their soap bar. The puzzle, craft, snack, and cookbook options are impeccable and equip you to achieve a fresh and relaxed mood at home. It is a one-stop shop to assure your home is filled with all the perfect essentials to make it the coziest.
The President James K. Polk Home & Museum provides an abundance of Columbia history. Serving as the home of the 11th US President, James K. Polk, this historic home is filled with cozy rooms and warm decor that will date you back in time. Touring the home and museum, with the more than knowledgeable staff, is a perfect activity for a winter day. While getting a guided history tour, you can stay warm in the home and soak in the beautiful architecture, furniture, and fun quirks about this historic home and President James K. Polk.  
Muletown Farm hosts snug cabins on a beautiful farm that will have you feeling restful your entire stay. You can sit by the cozy fireplace with the sound of crackling wood and soak in the stillness and peace as you curl up to a good read. Take in the views as you sip on your cup of coffee overlooking the views of Middle Tennessee's nature and rolling hills as you watch the sunrise or sunset. Plus, you can take in the hustle and bustle of the horses and animals wandering around the farm. 
Buckhead Coffee House is a splendid place to go and enjoy a latte or get some work completed. With a mixture of individuals grabbing lunch, enjoying their lattes, reading a book, or grinding on their work - their inviting atmosphere and smell of fresh food and baked goods will provide all the coziness you are looking for. You can also stop in with their conjoining neighbor Twig Boutique to do some retail therapy. 
Square Market & Cafe is the epitome of the perfect cafe to catch up with family and friends as you sip on their infamous fruit tea and delve in their special crab bisque soup, mouth-watering pasta, or fresh granberry chicken salad. The cafe's character, friendly staff, and cozy atmosphere will leave you feeling happier when you left than when you arrived. Oh, and don't forget to check out the dessert display with all of their decadent sweets before leaving.