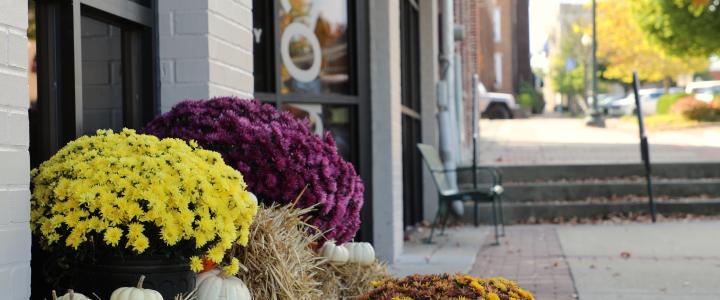 Fall in Columbia is the best of all!
In addition to the beautiful fall scenery that covers the town, Columbia is home to many unique and season inspired events that you don't want to miss.
1. Downtown Columbia Ghost Tours
Searching for a spooky experience? Starting on Friday, September 22nd at 8:00pm, you can join in on the 14-year tradition of the Downtown Columbia Ghost Tours. The tour commences by the 8 o'clock bell in front of the Maury County Courthouse, and you're then lead around downtown listening to intriguing history details and eerie tales told by your professional guide. Reservations are required. Call or text to reserve your spot.
2. Oktoberfest
Mark your calendars for Oktoberfest in Riverwalk Park on Friday, September 29th from 6:00-10:00pm. At this event, you can expect to hear live music, enjoy delicious craft beer, have access to some desirable food trucks and compete in various contents, such as a weiner race, best dog costume, keg toss, keg roll, and stein holding. All proceeds raised by this event will benefit the Room in the Inn Mission. Purchase your tickets by clicking here.
3. Fall Fest
Be a part of history and join the inaugural Fall Fest in downtown Columbia on Saturday, September 30th from 3:00-7:00pm! This event will feature Majestic (a renowned Journey tribute band), Kiwanis Chili Cook-Off, seasonal bites from local food trucks, handmade crafts sold by local artisans and a fun zone that's intended for all ages. Fall Fest is the perfect way to immerse yourself into the cozy and colorful fall season.
4. Big Bleu Pickin' Party
The Big Bleu Pickin' Party is a Columbia staple fall event and is loved by many. This free event is hosted by Bleu 32, a unique and local business that houses a variety of goods from various merchants, and it brings in the crowds. The Pickin' Party will include live music, delicious food options and tons of exciting finds from different vendors. Don't miss out on the fun on Saturday, October 21st from 9:00am-5:00pm at the corner of Woodland and East 7th Street.
These iconic events are just part of what makes Columbia the perfect fall destination. Be sure to check out our fall itinerary page on the Visit Columbia TN website to discover more and start planning your trip. We can't wait to meet and welcome you to Muletown!
Have more fall fun!
Ghosts of Greenwood (Polk Home)