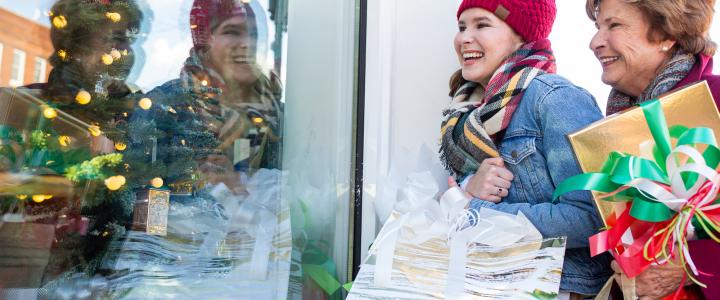 It's the most wonderful time of the year!
Christmas in Columbia is here and we cannot wait to celebrate with you. From Christmas Open Houses, to Winter Festivals, to the Maury Christmas Historic Home Tour, to all the downtown square festivities and shopping extravaganzas, you will experience that Christmas in Columbia charm that everyone knows and loves!  
November 6-12, 2020

Rory Feek welcomes you to the Barn Revival Concert Series at Hardison Mill Homestead Hall. With an outstanding lineup of musical guests, this series takes place each weekend (Fri & Sat) and runs through December 12th. Rory welcomes guests every Friday and might bring a few of his own! Saturday's special guests include Brotherly Love Quartet, Mark Wills, Wynn Varble & Nadine, Jimmy Fortune, Bill Dean, Bradley Walker, Guy Penrod, Paul Overstreet, and John Conlee. Get your tickets today! 
---
Needle & Grain Christmas Open House

November 6-7, 2020

Set your calendars for next weekend, November 6-7  for Needle and Grain's Christmas Open House! The whole shop will be decorated and looking festive with lots of new merchandise in Needle and Grain and Little Neighbors to make you feel happy and ready for Christmas!
---
Baxter's Mercantile Christmas Open House

November 7, 2020

Kick off the Christmas season at Baxter's Annual Christmas Open House! November 7th from 10am-7pm there will be storewide sales, snacks, new holiday merchandise & so much more! All items $19.99 and up will be 10% off!
---
November 7, 2020

Get crafty at the Country Christmas Craft Sale on November 7th at the Santa Fe Community Center from 8am-4pm! There will be homemade Christmas ornaments, quilts, embroidery items, canned items including jelly's and pickles, jewelry, T-Shirts, ironwork, homemade cakes, sourdough bread and more! 
---
November 13, 2020

Bring the family to Mule Town Lumberyard on Friday, November 13th for fantastic frozen fun! Elsa and Anna will be the featured guests for the meet and greet prior to the showing of their movie. Ticket purchase includes: meet and greet, popcorn, fruit snack and a drink! Dress in your favorite Frozen outfit and come enjoy a night of family fun! Tickets are $8.00 per person.
---
Baxter's Mercantile Pictures with Santa

November 14, 2020

1,2,3… smile for Santa! Join Baxter's Mercantile for Pictures with Santa on Saturday, November 14th from 11am-3pm on the downtown square. Bring your own camera!
---
November 14, 2020

Sip while you shop! Join Premier Chiropractic for a local holiday shopping event for charity to benefit the Center of Hope. There will be over 30 local artisans, artists, and boutiques!

---

Home-Made for Christmas with special guest Rhea Gaines

November 21, 2020 

It's time for Holiday DIYing! Special guest Rhea from Gaines Reserve Farm is going to be teaching us how to make your own goat milk soap, lotion butter and lip balm and wrap them up in time to use as Christmas gifts!

---

November 21, 2020

A Very Maury Christmas is returning on November 21st for the 6th Annual Market! With over 30 quality vendors and boutiques, this event is a Christmas community favorite. A $5 entry fee will be accepted at the door benefitting aMuse'um Children's Museum. Join us from 9am to 4pm at the Memorial Building in Downtown Columbia!

---

Holiday Open House at Amber Falls Winery & Cellars 

November 21, 2020

Come for the unveiling of our 2020 Snow Village display. Live music by Bald Kernal and Mostarda food truck will be here for the festivities!

---

Photos with Santa at The Faded Farmhouse

November 21, 2020

We are so excited to announce that Santa Claus is coming to The Faded Farmhouse! He will be with us November 21st from 9-2, so bring your kiddos and camera for the perfect photo opportunity!

---

Vintage 615 Annual Photos with Santa

November 21 & 28, 2020 

Don't miss Vintage 615's Annual Photos with Santa! Have your annual picture taken and then browse some of the best holiday decorations around town!  Visit here for more event details.

---

November 21, 2020

Christmas goodies, sales, and prizes will be waiting on you to enjoy at the Fireflies Christmas Open House!
---
November 21, 2020

Grab some mazing deals from local artist & crafters! Stop on by & find the perfect gift or holiday decorations for your home!

---

Friendsgiving at Muletown Pottery

November 26, 2o2o

You are invited for Thanksgiving dinner! There will be Turkey, ham, brisket, dressing, sweet potatoes, green bean casserole, mashed potatoes, fruit salad and homemade pecan pie all provided. Please bring your favorite side dish to add to the menu and at least one box of macaroni and cheese or a jar of peanut butter that will be donated to The Family Center!
---
Maury Farmers Co-op Christmas Open House

November 28, 2020 

Come on out & kick off this holiday season with us here at Maury Farmers Co-op! There will be sales on clothing, footwear, decor and more. Photos with Santa will be available from 9-11 & 2-5 and will get a free photo with the purchase of $10 or more. Admission is free, so bring your entire family & have a great time! Food & drinks will be available. Pets are welcome!

---

Fernwood First Friday Christmas Edition

December 4, 2020 

Come pick out your Christmas Tree at Fernwood's Christmas Tree Lot! Enjoy food trucks and time with family and friends. 

---

Maury Christmas Historic Home Tour

December 4-5, 2020

The famous Christmas Historic Home Tour is back for 2020! Tour homes festively dressed for the season while benefitting the Athenaeum Rectory on December 4th and 5th  from 10am-4pm. For ticket information contact The Athenaeum at 931-797-3316.
---
It's the Most Wonderful Weekend of the Year

December 5, 2020 

Join Bleu 32, Accents and Antiques, Columbia Antiques Marketplace, Frank's Old Stuff and Loblolly for The Most Wonderful Weekend of the Year! 

---

Pictures with Santa at Elm Springs 

December 5, 2020 

Santa will be making a visit to Elm Springs on Saturday, December 5th! Bring your children for a free photo session. A photographer will be available to take pictures and email them to you free of charge. This event is brought to you in conjunction with the Maury Christmas Historic Home Tour. 

---

Cookies with Santa at aMuse'um Children's Museum

December 5 & 6, 2o20 

Santa Claus is on his way and it's time to prepare for Christmas Day! Children will enjoy Christmas cookies & milk, story time with Santa, a craft and play time in the museum. Each session will be limited to 12 children (no more than 1 adult per child) for quality time with Santa and a safe, enjoyable experience.

---

A Blue Barn Christmas Market and Winter Festival - Pancakes and Pictures with Santa

December 5, 6, 12, & 13, 2020

The community favorite, A Blue Barn Christmas in back for the 2nd year! Enjoy a fun-filled day of holiday vendors, food trucks, freshly-cooked pancakes with yummy toppings, Christmas cookies, crafts, letters to Santa and much more!

---

December 5, 2020

Santa is coming to A Balloon Shop for the Christmas Open House! There will be refreshments, free pictures, and also a personal treat from Santa! The Toys for Tots drive will also be taking place, so feel free to contribute.

---

Cookies and Milk with Santa at Mt. Pleasant Grille

December 5, 2020 

Visit Santa and tell him your Christmas wishes, while siting at the soda fountain bar enjoying cookies and milk or hot chocolate! Top it off with a polaroid photo taken with Santa as a keepsake.

---

Thompson Station Holiday Market 

December 5, 2020

Come shop hand-crafted, one-of-a-kind gifts made by local residents and small businesses at Homestead Manor in Thompson's Station!

---

December 12, 2020 

Join Muletown Farm for a free outdoor Christmas concert featuring 3 Nashville CMA artists and holiday decorations sure to get you in the spirit. Gates open at 5:00, the concert starts at 7:00pm!